BEAUTY AND HAIRDRESSING DEPARTMENT NEWS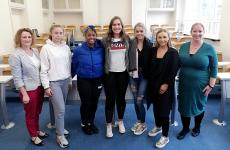 Beauty Department students attended a number of events this month as part of their applied learning. GTI Hairdressing and Beauty students  visited the RDS for the Professional Beauty and HJ Live Ireland - Beauty and Spa Trade Show. The event enables the students to learn about the latest developments in hair and beauty, try out new products, and learn from experts through live demonstrations.Students also visited VOYA Organic Beauty headquarters in Sligo  for training and to learn about how these products are developed.
This was followed by a mock seaweed harvest in Strandhill, such a fantastic hands-on learning experience. They also visited the The Galmont Hotel & Spa as part of their Customer Service Assessment, where they got to apply the skills being learned as part of their course. The students were given a guided tour of the spa by GTI beauty graduate and Assistant Spa Manager, Maria Hunt. Thanks to the Galmont and Maria for hosting our students.Beauty Sales Advisor students recently attended a social media workshop, looking at how to use social media to develop a brand for business, how to target customers and showcase the skills developed at GTI. Pictured: GTI students- Kellie Brown, Oshelle Parr, Shauna Lydon, Lorraine Burke, Lucy Murphy and Shauna Lydon, with their teachers Judith Madden and Sinead Ni Dhroighneain.  Students took part in professional INGLOT training in November, with GTI Beauty Therapy graduate Alice Tyler. The 1950s themed workshop saw Alice share her knowledge and insights of working as an in-store trainer for Inglot Make Up Ireland with our students.