Applications System OPEN - Full-time Programmes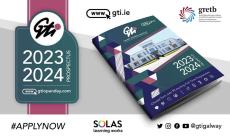 GTI's Applications System is still OPEN for second round applications for full-time programmes commencing this September.
Browse the GTI Prospectus at: https://www.gtiopenday.com/prospectus.html to view the exciting range of full-time programmes available at GTI for Autumn 2023.
APPLY NOW at www.gti.ie/applications.
Make Things Happen for you at GTI in 2023!