Centre of Excellence Award from Dermalogica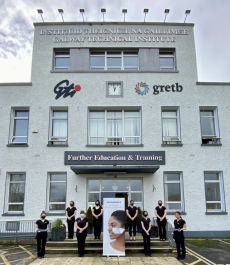 GTI Beauty Therapy Department is proud to announce that it has been awarded a Centre of Excellence status by Dermalogica, one of the world's leading specialists in skin analysis and beauty treatments. This award enhances our GTI student profile at the college as they progress in their careers, certified by international bodies such as ITEC, CIBTAC and CIDESCO. 
Worldwide, Dermalogica trains 75,000 skin therapists a year. Dermalogica professional skin therapists are licensed, informed skin health experts trained to recommend Dermalogica products and deliver professional skin treatments. They have the answers to our most important skin care concerns. They know how to deliver real, visible results. Our students will benefit greatly from this collaboration, acknowledgement and expertise. 
GTI Beauty Therapy students are fortunate to have their learning onsite at GTI. Due to the practical nature of the programme, students apply their learning in a fully functional salon as they practice their skills on a daily basis under controlled measures.