Considering a career in Business & Law?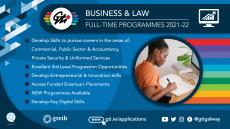 GTI's Business & Law department provides students with the entrepreneurial, innovation and digital skills required to flourish in today's global business world. Choose from a range of exciting courses for 2021-22 including NEW courses in Law & Criminology, and Logistics & Distribution. With grants available, Erasmus+ placements and fantastic 3rd level progression opportunities...𝗔𝗣𝗣𝗟𝗬 𝗡𝗢𝗪 at www.gti.ie/applications
You can also browse the GTI digital Prospectus for 2021-22 HERE, and view our Student Testimonial videos by clicking HERE
𝗔𝗣𝗣𝗟𝗬 𝗡𝗢𝗪 and Go Further with GTI.