Full-time courses
Full-time QQI-certified day courses in business, health, beauty, computing, engineering, art/design, and sport/leisure.
Part-time courses
Part-time QQI-certified courses in Applied Health & Social Sciences, Art & Design, Business, Media, Fashion, Hairdressing & Beauty, Computing & Engineering and Sport & General Studies.
School of Music
The School of Music at GTI offers instrumental as well as theory classes.
Home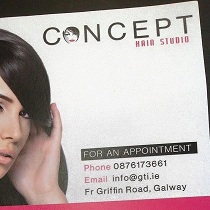 Second year students will once again operate their "Concept hair salon" in room 21 from 1pm to 4pm on Thursdays starting 28th Sept. For appointment, text  0876173661. Blow drys only. Models are also required for barbering classes, Thursdays 10am-12pm. GTI room 21 text 0876173661 for appointment, walk ins welcome. Free gents hair cuts
Congratulations on securing your place at GTI and welcome to our college! Registration is ongoing during the month of September. See Galway Technical Institute Facebook page also for updates. Please note registration fee of €250 must be paid by all applicants. Applicants with current medical cards are exempt from the additional €200 government levy fee. See GTI terms and procedures here.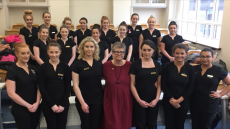 Diploma in Beauty Therapy students with their CIDESCO examiner Gabriella Andina  from Switzerland pictured in Room 2.The CIDESCO Diploma is the world's most prestigious beauty therapy qualification and is recognised in 33 countries.  The Beauty, Hairdressing and Health Science students held an Awards ceremony on 18th May at GTI. All students were awarded certificates. 'Student of the Year' awards were acknowledged in Health Science – Ray Curran, Beauty –  Emma McSweeney and Hairdressing – Louise Guinan.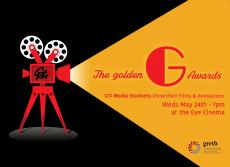 Golden G Media Awards, showcasing student Animation and Film took place Wednesday 24th May at 7pm at the Eye Cinema, Theatre 8 followed by an awards ceremony. Golden G Award winners were: Mairead Dewar for Film and TV, Lukasz Langowski for Film and Documentary, Derek Gardiner for Animation at Level 5 and Lorraine O'Brien for Animation Level 6.
This work highlights and celebrates the creativity and high level of media skill required to work in this exciting career area
Students from 4 groups; Art: Portfolio Preparation QQI Level 5; Drawing & Visual Inquiry QQI Level 6; Animation QQI Level 6 and Furniture Making and Design QQI Level 5 will be showing the results of their year's hard work May 26th – May 31st in Dominican Hall, The Claddagh, from 10:00am until 4:00pm excluding Sunday. The opening reception will take place at 7pm on Thursday 25th May.  Paul Fahy, Artistic Director, Galway International Arts Festival will formally open the exhibition.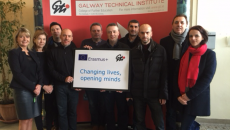 The Teaching Improvement Partnership Project is an Erasmus+ programme led by GRETB [GTI] with partners from UK, Turkey, Czech Republic and Portugal.  The project aims to strengthen the recruitment, selection and induction of Educators, promote inclusive education & training systems whilst supporting and promoting work-based learning in all its forms.  Partners will explore the potential for further strengthening key competencies in Vocational Education & Training by enhancing the knowledge and skills of staff through training and by promoting work-based learning in the curriculum.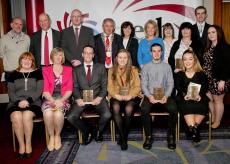 The 2nd ANNUAL GRETB Awards ceremony took place Thursday 27th April in the Clayton Hotel.  Congratulations to Galway Technical Institute's five students who were proud recipients of awards in various categories. In the  Innovation and Entrepreneurship category, Rebecca Horgan from  Adv. Business Management was the winner. Darragh Lally, President of the Student Council won the Leadership Award. Laura Canty from Fire and Ambulance won an award for School Spirit in the Open Category.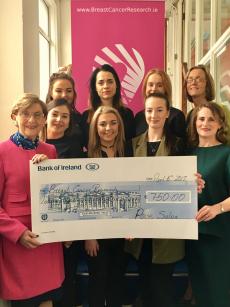 The Health and Beauty Departments recently held a fundraising treatment day for Breast Cancer Research. A cheque for €750 was presented to representatives from the charity by GTI students and teacher Judith Madden. The Student Council recently held a Bake Sale and  raised €327 in funds for the chairty COPE.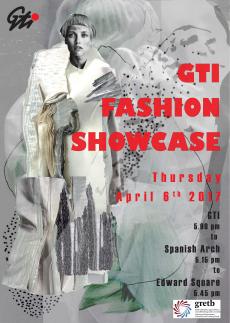 The GTI annual Model Walk, which put the spotlight on the unique creations of new generation emerging GTI Fashion Student talent, took place on Thursday evening, April 6th . An abundance of fashion, hair and makeup innovation was showcased in this very special college event. Galway City Centre became a catwalk as up to 40 models wearing the most creative and stunning designs from GTI Fashion Studio, walked from GTI