KA2 TIP - Teaching Improvement Partnership (Project 2016-1-IE01-KA202-016923)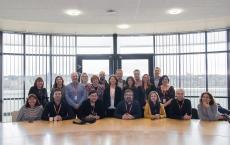 The Teaching Improvement Partnership Project (TIP Project) led by Galway and Roscommon Education and Training Board and involving partners from the Czech Republic, the UK, Portugal and Turkey has identified the training and equipping of  teachers/trainers in  relation to Education Employment Partnership activity as a way to improve teaching addressing Europe 2020 whilst also impacting on skills mismatches,promoting apprenticeships enterprise/self employment, contributing to economic development and impacting on inequalities for  those from minority backgrounds, those with disabilities and other under represented groups such as young women.
This project addresses in particular the communication from the European Commission" Improving Competences for the 21st Century, an Agenda for European Co-operation on Schools", the  Bruges communique 2010 and Copenhagen process empowering people, internationalising VET and fostering innovation creativity and entrepreneurship and EU 2020 particularly  improving teaching and reducing social exclusion. 
The aim of this programme is to further strengthen key competences in VET  by enhancing the knowledge and skills of staff through training and by promoting work-based learning in all its forms in the curriculum, with special attention to apprenticeships. We aim to make the teacher training element empower the motivation of under represented groups of students in particular who often face  disadvantages .The objectives are to exchange best practice across the partner countries, to deliver 5 modules of  teacher training activities  including certificated training through GRETB, which will  upskill staff in partner countries including knowledge such as labour market information and to impact on vocational students career choices. Staff  are our primary focus
Through 5 training events up to 80 staff from partner countries will visit hosting countries and learn from the practice there. This will be through observation/shadowing/lecture/workshop/discussion and other practical methods. These will be vocational teachers, strategists and a small number of business ambassadors all involved in education employment partnership delivery and development. Delegates will cascade information and learning in their own country. Indirectly we expect 2930  participants to benefit from the project.
The project will develop a resource directory for partner countries, a curriculum package and a set of case studies showcasing excellent teaching practice across the partners identified through training events and employer involvement. Partner websites will make all materials readily available.
The project delivers the up skilling and development of staff, the showcasing of powerful resources through the exchange of practice, the potential of a more innovative curriculum through training which will address inequality and recognise diversity, and consequentially the improvement of life chances for young people and the sharing of good practice.
The long term benefits include better teacher training and more skilled teachers,  the addressing of skill mismatches through influencing and encouraging young people to choose appropriate careers, the addressing of worklessness and dropout by improved teaching and a more appealing curriculum and the development of national and European strategies through learning and sharing good practice. 
The project concludes with a series of partner events aimed at disseminating practice as wide as possible and attended by delegates from all partners as well as a wide range of invited delegates. 
Delegates have have just returned from the third training activity in the UK. Please visit the enclosed links:
https://www.nulc.ac.uk/whats-on/news/teaching-professionals-from-outside-of-the-uk-visit-nulc
https://www.youtube.com/watch?v=EQ4Xs344OsU [1]
Please visit http://www.tipproject.eu for the most up to date project information including: 
Case Studies
Curriculum Materials
Resource Directoriees
Contact: John McLoughlin (Deputy Principal) for more information - john.mcloughlin@gretb.ie