GTI Awarded Erasmus+ Accreditation & Excellence Label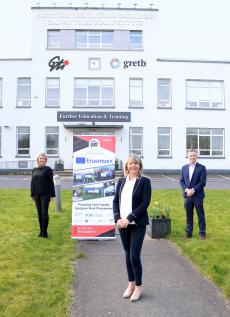 GTI are delighted to have been awarded Erasmus+ Accreditation and also the Excellence Label under the New Erasmus+ Programme.
The Award of the Erasmus accreditation confirms that GTI has set up a plan to implement high quality mobility activities as part of a wider effort to develop our organisation. GTI has built a bank of experience and expertise spanning almost 13 years which has had a profoundly positive impact on GTI's development as a leading College of Further Education. The Excellence Label awarded to Galway Technical Institute was based on the excellent quality of projects and development through Erasmus+ to date and will be recognised between the 1st March 2021 and 31st December 2027.
Congratulations to GTI's Deputy Principal and Erasmus+ Co-ordinator, John McLoughlin and to all staff & students who have contributed and participated over the years in leading to this fantastic achievement. We look forward to continuing to work with our fantastic European partners into the future.(Pictured, GTI Deputy Principal - Alison Ward, GTI Principal -Geraldine Gibbons, and GTI Deputy Principal - John McLoughlin)